For anyone who has been interested in hosting a website, it's hard to forget the pervasive advertising that HostGator pushes whenever it comes up with a promotion. There's nary a name in the web hosting business that is older than this Texas-based juggernaut.
What HostGator Offers?
As one of the world's oldest surviving hosting platforms, we expected no less than a plethora of various offers. Among them are shared hosting, cloud hosting, WordPress-centric hosting, reseller packages, virtual private servers, dedicated servers, and domain names.
Pricing:
There are three plans:
The "Hatchling" which is the entry-level plan that advertises a rate of $2.75 per month. If you're paying on a month-by-month basis, expect to pay $10.95/month for basic service without extras. A twelve-month commitment will cost you $5.95/month.
The "Baby" which includes unlimited domain allowances (Hatchling allows for only one), parking for domains, and the option to include a dedicated IP for an extra $4 a month. The service on a three-year contract costs $5.95/month. On a month-by-month contract, expect to pay $11.95/month for basic service. A 12-month commitment will cost you $8.95/month.
The "Business plan" which is the top-dog high-tier service that offers you a Houston-sized helping of a free dedicated IP, a free Positive SSL upgrade, and anonymous FTP. Three years with the plan will cost you nothing above the "Baby" contract. However, a month-by-month payment will cost $16.95/month for basic service.
Speed and Reliability:
Uptime and speed are both some of the most crucial deciding factors that could make or break your visitors' confidence in your site. If it takes longer than five seconds to load a page, barring issues that the visitor's own ISP or system has, this could definitely stir them away to other sites.
The Internet world is far more competitive than it was in the 90s when loading an image took about as long as your coffee break. To provide a comprehensive analysis of how our website performs in real-world situations under HostGator, we decided to run a small battery of tests. The following are our results.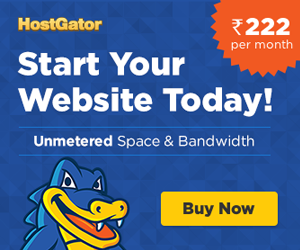 Support
Regarding the level of support, we decided to test it out in the spirit of thoroughness. We "played stupid" and contacted support via live chat with a few common questions about FTP access and WordPress setup and were pleasantly surprised to be connected with someone within fifteen seconds of submitting our ticket on a Saturday.
Vivian (the name given to our support specialist) was lovely and courteous, albeit slow with her responses, perhaps because she was also dealing with other customers at the same time.
Well, these are some of the reasons why Hostgator is perfect for you. There are a few other reasons too but the reason s mentioned here are the most important. Hopefully, the provided information was of help to you.